I never was one for making a hard decision and when I do make one, I tend to backtrack on it and retreat to a safe place. Preferably under a doona somewhere with the quiet hum of my Xbox running in the back ground.
My hard decisions don't seem to particularly hard of late though. In fact, the hardest decision I had to make in the last week is what pre-order of Batman: Arkham City to get. FYI, it was the Steelbook Edition.
I had three pre-orders I could realistically choose from with this game. EB Games had the Steelbook Edition which comes with a shiny Steel case for the game, a 70's style Batman DLC (Downloadable Content) suit, Joker Carnival Challenge Map DLC and a copy of "Batman: Under the Red Hood" on Blu-Ray. All for the nifty price of $98!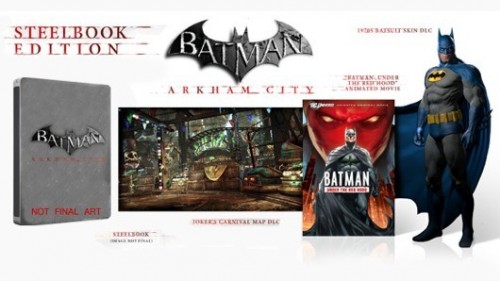 This may seem a bit of an excessive price for a video game, but I should remind non-Australian readers and my readers who don't buy games that $98 is roughly the price of a brand-new copy of an Xbox 360 game. So being able to get a case, two pieces of DLC and a DVD for less than $100 is a bargain.
EB Games also have the Batman: Arkham City Collectors Edition which would have set me back about $150. If I had forked out that much money, I would have gotten a Batman statue, a collectable art book, four collectable cards, early access to the Iceberg Lounge Challenge Map and Batman: The Dark Knight Returns skin, Batman: Arkham City album from WaterTower Music and a bonus animated movie "Batman: Gotham Knight". Again, for $150, that's a decent amount of loot! But that wasn't for me. I'm not really into the statues and such.
GAME also had a pre-order but their standard pre-order only had a Batman Begins suit for the Gotham vigilante for $78. But for the loot I could get for $100, I'm happy with my choice and come September(? I should look that up) I will indulge in happy Batman goodness.